Seven days I've been doing what I can not to buy into the societal expectations that are out there that sometimes cause me to beat myself up.
You know, things like, by this time in my life I should have X amount of property and Y sort of career with specific goals and pathways towards the future… All that sort of stuff. Well as I said I've been doing what I can to just stay present and make my daily life as much of a meditation as I can. I admit, I don't feel that I'm very good at keeping the noise quiet but as Eckart Tolle infers "just doing any of it and every moment that is present is more and better than doing the usual mind chatter".
So, I feel good. Life hasn't changed in any huge ways but I'm more settled than I was last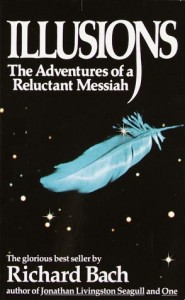 week and despite the fact that financially things haven't changed I'm not stressed about it. In this moment all is pretty damn okay.
So I'm just going to continue doing what I'm doing. Not buying into what is expected and staying as calm an meditative as I can. Practice, practice, practice.
During the week I was talking to a good friend, Brett, who reminded me about our  favourite book and the opening passage from it which I'm going to retype here as an exercise in reminding myself of the importance of these words and consider that ultimately this is the only valid way that I can live my life. With thanks to Richard Bach from Illusions, The Adventures of a Reluctant Messiah.
There was a Master come unto the earth, born in the holy land of Indiana, rased in the mystical hills east of Fort Wayne.

The Master learned of this world in the public schools of Indiana, and as he grew, in his trade as a mechanic of automobiles.

But the Master had learnings from other lands and other schools, from other lives that he had lived. He Remembered these, and remembering became wise and strong, so that others saw his strength and came to him for counsel. Continue reading