Over the last few weeks I've been listening to quite a bit of some Eckhart Tolle lectures and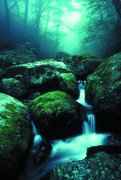 interviews and it's yet again got me thinking about the stuff that I struggle with in my life. For those who don't know, Eckhart wrote the Power of Now which I read just after I went and did a Vipassana meditation retreat back in 2000.
The things that are outlined with both the Power of Now and Vipassana is that with our constant mind chatter we miss out on living in the moment. Therefore if we could live not thinking about the future or past but stayed present in the moment we would have a much more real experience.
So… I've decided to have an experiment. Just for one week, (after all how much damage can I do in one week and I currently have a lifestyle suited to it) I'm going to do all that I feel inspired to do in the moment. I will eat, sleep, drink and work as the moment takes me and I'll see where I am at the end of the week. I'll have a SocietyFast. No big deal. I'll still do the things that I have planned if they are appropriate or I will respectfully contact others if affected to inform them of the changes.
Let's see what happens… Maybe nothing… Maybe something…