Most people don't think of funerals as being pleasant but on Saturday I had the good fortune to go to a great memorial service for a cousin. Malcolm Kath, just four years my senior passed away from cancer about 10 days earlier and we were under strict instructions not to not wear any suits but loud shirts, roll at least one bowl down the green at the Canungra Bowls Club and have a drink, his shout.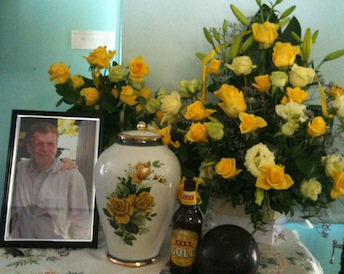 Mal was one of the nicest people I've ever had the good fortune to know. He was kind and wanted little from others but his simple life reminded me that sometimes it's the quite ones that have an impact far wider than the people who make all the noise. A bachelor until 50, he finally married his childhood sweetheart Marcia in 2006. At the service I saw school photos of the eight year old Mal and Marcia in the same class at school.
I remember catching up with Mal a couple of years ago and in his style he was holding his right hand out in a claw, complaining that there was something wrong with it. I asked what was the problem, to which he replied "I don't have a beer in it".  A simple dry wit was his style but sadly his desire for beer was a life long issue and the addiction to it eventually lead him, in the last few years to loose his short term memory to the alcohol abuse condition of Wernicke-Korsakoff Syndrome. This had the side benefit in his last days, which although full of pain and with difficult palliative care, he was unable to remember any of it, so he was constantly discovering how dire his circumstances were inso only living in each new moment.
I suppose this is the point of this post and what I learnt from Mal on Saturday. Things are not always as they may seem.
He was content with his life fully aware that he made the decisions that lead to all events. He lived in his moment to moment life and he accepted the consequences of those decisions and he earned great respect from his community for that and the decent person that he was.
At the service there would have been 250 people to see him off, including seven police officers past and present. Marcia received a 20 year service award for Mal signed by the Commissioner of Police, presented by the Managing Officer of the Local Police District for his service. For being a cleaner and gardener.
Now I knew Mal, he was family but for a top heavy bureaucratic government organisation like the police service to take the time to show their regard to a humble cleaner says a great deal for the character of one of the unsung mainstays of our society. One of the many that we take for granted but rely on and when they are gone they will be missed.
Mal, like most of us, will not even be a footnote in history but not too many of us will have earned the respect that I saw shown for him on Saturday. We can all learn more from the quiet, humble people who make no waves but help to keep us afloat.