Up until 2001 I had been doing some Latin dancing at Rio Rhythmics in West End, very much along the styles of Salsa, Bolero and Lambada which you've probably seen them around occasionally. Then I decided to do a little Tango. Wow!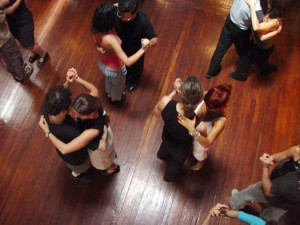 I still remember and to this day, the two most impressive dances that I've had were in 2001 when I danced with Madeline and with Wolfgang. There was a grace I felt in dancing with Madeline that I have yet to feel again and with Wolfgang I felt for the only time the strength and passion that can be expressed through the lead from the man.
I did a few months of Tango and stressed out a great deal over it along with some major personal crisis at the time including the death of my sister in a horse riding accident. The personal issues led me to reassess my life, move to Sydney to work on Matrix 2 & 3 ultimately dropping out of Tango.
Although I meet some wonderful people in 2001 I lost contact with most of them as happens, however I decided in 2007 after some more changes in my life to re-enter the fray and have another crack at learning Tango. So I contacted Wolfgang and he directed me to Ross and Sandra who run Friends of Tango and I started lessons as a beginner again.
Six years later I had forgotten everything and had to start from the basics again. however this time it felt different. It was actually harder. Now that I have more experience I realise that Ross and Sandra are teaching me at a much higher standard than I was being taught before, understanding the subtleties of a dozen things at once making it was much, much more difficult. Now we were moving towards excellence instead of just dancing. Good Tango like the very best of things in life are challenging and can only be appreciated when done with an attitude of excellence.
I'll go into more later but suffice to say this is one of the half dozen of the most difficult things that I've done in my life and it's required dogged determination all the way. Only now that I've move through a transition do I feel that I can write about it.